Toshiba Financial Services
A Strong Partner for Your Growing Business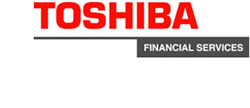 When you do business with Toshiba you're partnering with one of the leading document management companies in the world. Ranked by Fortune Magazine as the eighth Most Admired Electronics Company in the world, with 160,000 employees globally, Toshiba has the strength and resources to bring cutting edge products and services to our valued customers.
The Right Business Solution. The Right Financial Partner.
A partnership with Toshiba is a complete partnership. Not only do we bring you the best document management products for your business, but we also provide you with the best financial solution to acquire these products—Toshiba Financial Services. Our wide range of financial service options assists you in obtaining and maintaining the products that make your business run.

Contact an Authorized Toshiba Reseller to learn more, or click to download a PDF of the Toshiba Financial Services brochure.