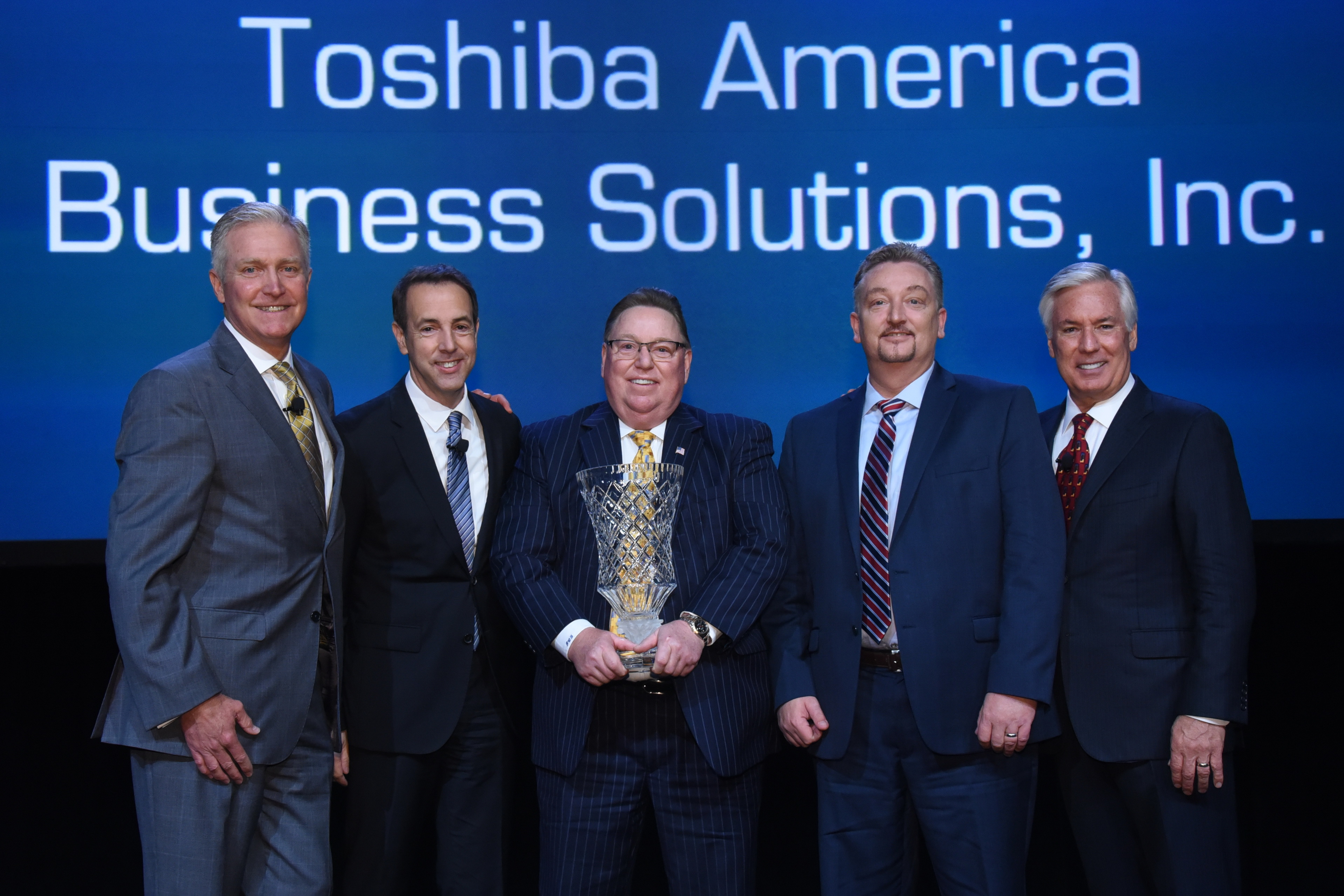 Toshiba America Business Solutions recognized seven of its top-performing U.S. independent resellers with Dealer of the Year recipient, Cincinnati's Donnellon McCarthy Enterprises leading the list. Toshiba also recognized Harrisburg, Pennsylvania-based Higher Information Group as its All Star reseller with first-year dealer partner, The Lioce Group in Huntsville, Alabama earning Rookie of the Year honors.
Toshiba additionally honored the following resellers as its top regional dealers: Appalachia Business Communications (Southern region), James Imaging Systems (Midwest region), Nauticon Imaging Systems (Eastern region) and Kelley Imaging Systems (Western region).
"In addition to their collective stellar sales performance throughout 2016, all of our award-winning resellers have opened up their wallets and rolled up their sleeves to better their communities," said Toshiba America Business Solutions Senior Vice President Sales Americas, Larry White. "Whether volunteering at food banks, giving money to worthy nonprofit organizations or even starting their own nonprofit, the seven resellers we've chosen are clearly making a difference where they live and work."
Donnellon McCarthy Enterprises was acknowledged for its exceptional nationwide revenue, percentage of sales quota met, year-over-year revenue growth and community service. Toshiba's four regional award recipients were similarly recognized for the same criteria on a regional basis.
The Higher Information Group received All Star honors for significant sales growth within all of Toshiba's product groups, which include the company's e-STUDIO™ multifunction printers, Ellumina™ digital signage and thermal barcode printers. The Lioce Group earned Rookie of the Year recognition for most revenue for a first-year reseller.
About Toshiba America Business Solutions, Inc.
Toshiba America Business Solutions (TABS) provides multifunction printers, managed document services and digital signage for businesses of all sizes throughout the United States, Mexico, and Central and South America.
The company's award-winning e-STUDIO™ copiers and printers provide quality performance with the security businesses require. Complementing its hardware offering is a full suite of document workflow, capture and security services including Encompass™, the company's industry-acclaimed Managed Print Services program. Encompass enables clients to print less and optimize workflow while improving energy efficiency.
TABS' Ellumina™ digital signage offering includes all of the hardware, software and services needed to implement dynamic and interactive digital signage installations. TABS provides content creation and management, displays, integration, installation and project management services as well as financing for solutions ranging for a single screen to the biggest arenas and stadiums.
TABS comprises five divisions: the Electronic Imaging Division; the Toner Products Division; the Document Solutions Engineering Division; the International Division; and Toshiba Business Solutions.