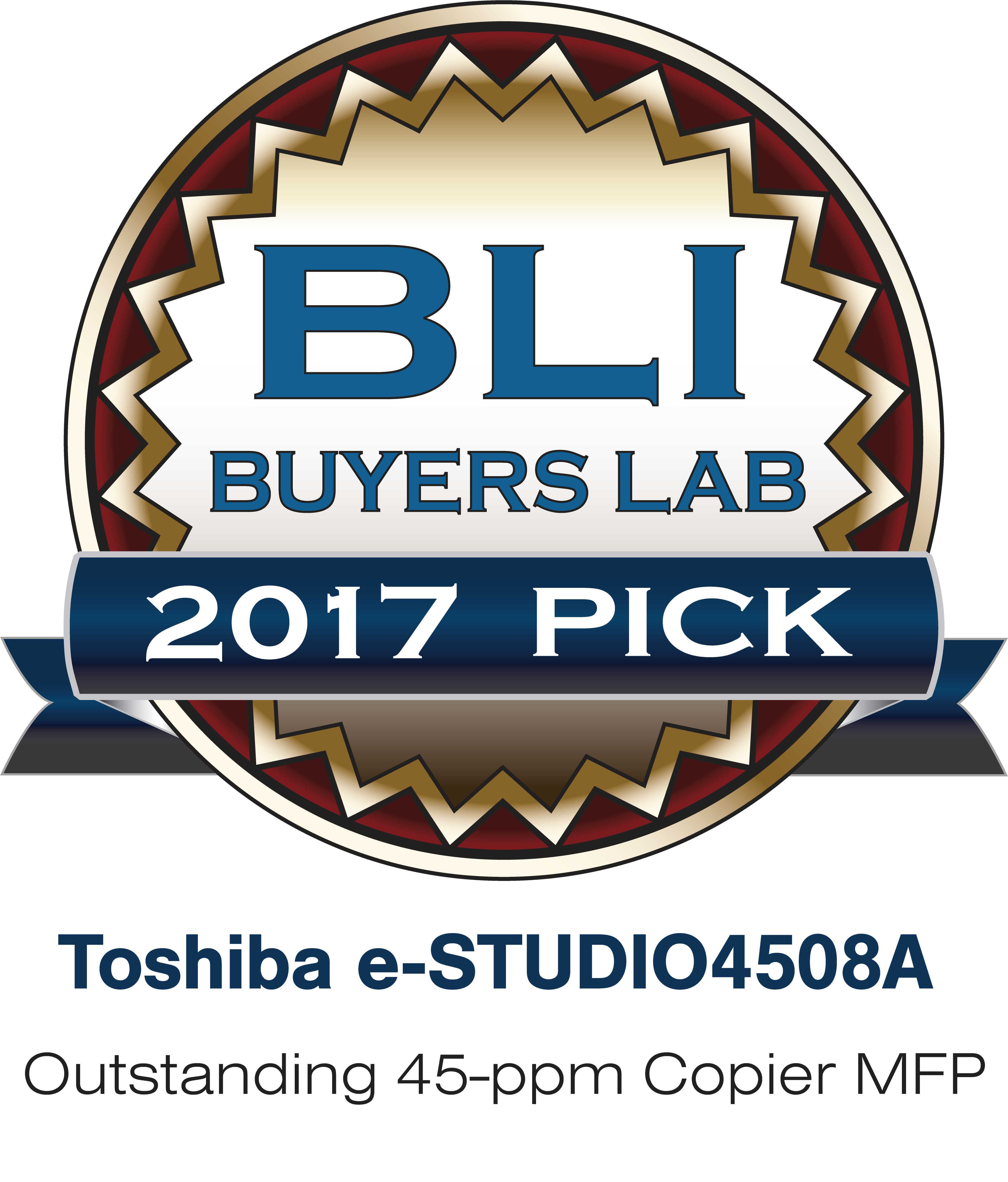 Toshiba America Business Solutions' e-STUDIO™4508A has earned Keypoint Intelligence - Buyers Lab's Summer 2017 Pick. Toshiba's latest monochrome product surpassed comparable multifunction printers in reliability, usability, security, value and features during six months of rigorous, side-by-side product testing.
The global document imaging industry resource presents its 'Pick' awards twice annually to acknowledge the best hardware and software offerings in specific product categories. Keypoint Intelligence-Buyers Lab's unique and comprehensive testing assesses a wide range of features and performance factors that are most important for buyers.
"The Toshiba e-STUDIO4508A offers excellent reliability and a feature set that is designed to enhance end-user productivity," said Keypoint Intelligence Associate Director George Mikolay. "Users can create and access driver profiles to streamline frequently recurring print chores, while one-touch templates and the Simple Scan and Simple Copy menus make scan and copy jobs a cinch."
The industry-recognized feature set within Toshiba's e-STUDIO4508A seamlessly handles the print, document management and workflow needs of virtually any business application. The product is one of six models − with speeds from 20-50 ppm − within Toshiba's e-STUDIO5008A series integrating otherwise identical hardware and software elements. The e-STUDIO4508A offers leading hardware and software elements including Intel's® powerful multi-core Atom™ processor, a customizable tablet-style user interface, Embedded Application Platform and Dual-Scan Document Feeder. All of the features are designed to help organizations operate more efficiently and cost effectively while improving workflow.
"Earning Buyers Lab's Pick Award is a terrific accomplishment for everyone at Toshiba associated with the product - from our engineering and operations departments to our sales and marketing teams," said Bill Melo, Toshiba America Business Solutions chief marketing executive. "Our e-STUDIO4508A has also received high marks from our customers who value the product's performance, feature set and reliability."
About Keypoint Intelligence - Buyers Lab
Keypoint Intelligence is a one-stop shop for the digital imaging industry. With our unparalleled tools and unmatched depth of knowledge, we cut through the noise of data to offer clients the unbiased insights and responsive tools they need in those mission-critical moments that define their products and empower their sales.
For over 50 years, Buyers Lab has been the global document imaging industry's resource for unbiased and reliable information, test data, and competitive selling tools. What started out as a consumer-based publication about office equipment has become an all-encompassing industry resource. In a landscape that's ever evolving, we change with it.
About Buyers Lab Pick Awards
Buyers Lab Picks stand alone in the industry and are hard-earned awards as they are based on rigorous testing, including an extensive durability assessment and evaluation of key attributes such as usability, image quality, and value. Each product that passes our lab test earns Buyers Lab's Recommended or Highly Recommended seal and our Certificate of Reliability, with the best performers qualifying as Pick contenders.
About Toshiba America Business Solutions, Inc.
Toshiba America Business Solutions (TABS) provides multifunction printers, managed document services and digital signage for businesses of all sizes throughout the United States, Mexico, and Central and South America. The company's award-winning e-STUDIO™ copiers and printers provide quality performance with the security businesses require.
Complementing its hardware offering is a full suite of document workflow, capture and security services including Encompass™, the company's industry-acclaimed Managed Print Services program. Encompass enables clients to print less and optimize workflow while improving energy efficiency.
TABS' Ellumina™ digital signage offering includes all of the hardware, software and services needed to implement dynamic and interactive digital signage installations. TABS provides content creation and management, displays, integration, installation and project management services as well as financing for solutions ranging from a single screen to the biggest arenas and stadiums.
TABS comprises five divisions: the Electronic Imaging Division; the Toner Products Division; the Document Solutions Engineering Division; the International Division; and Toshiba Business Solutions.