Device Security
Device Defense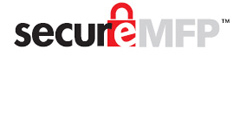 In order to protect the confidentiality and integrity of your data, we continually develop comprehensive security measures for Toshiba devices. Our Advanced Encryption functionality provides on-the-fly encryption and decryption of data written to the device's hard drive. The Data Overwrite Kit ensures that all data is erased after every fax, copy, scan and print job in order to prevent the latent storage of valuable data on the device. Because MFPs and network printers function as complex network devices, we have developed several solutions that specifically address network security.
IPv6 ensures IP security with a larger IP address range, protection from scanning and attacks, and support for authentication and confidentiality as part of our optional IPsec©. Secure Sockets Layer (SSL)© employs encryption technology to protect all data traveling to and from the MFP, while IP Filtering acts like a firewall to protect your internal network from intruders. Also, SMB Signing adds a digital signature to verify that data is received from authenticated sources and ensures the integrity of all communications.

Want security you can see?
Click here to check out our Security Rating System
Click here for a sample Security Vulnerability Report