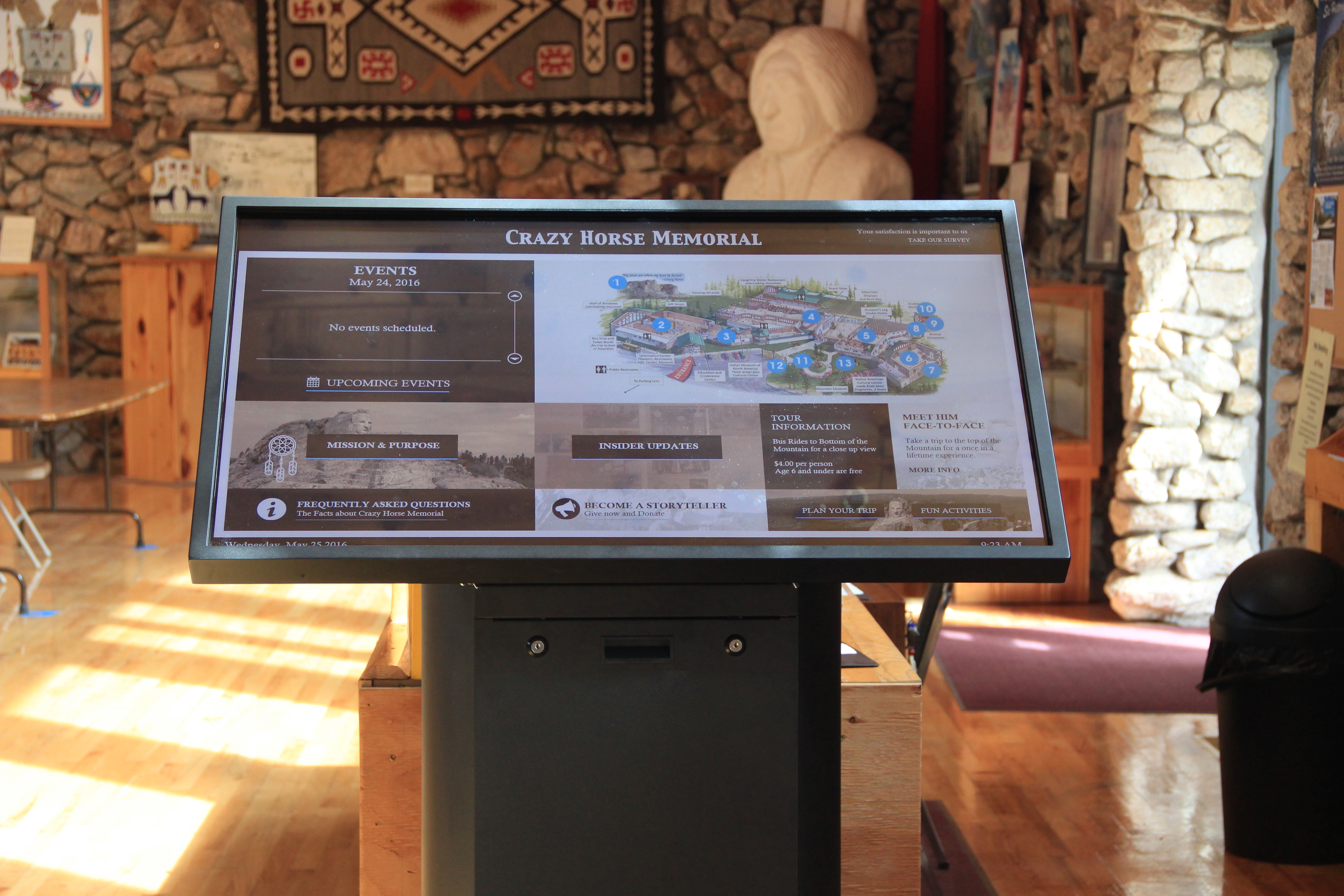 Toshiba America Business Solutions is helping to enhance the visitor experience at Crazy Horse Memorial – the world's largest mountain carving – through the inclusion of the company's Ellumina™ digital signage line. The monument, located in the Black Hills of South Dakota, is dedicated to Lakota leader Crazy Horse and preserving the rich culture of Native Americans throughout North America.
Toshiba's Virtuoso interactive touch screen displays – the signature hardware element of its Ellumina line – are prominent throughout the Crazy Horse Memorial visitor complex. Featuring a broad array of information including highlights of the day's activities, illustrated maps and tips for improving visitors' tour experience, the interactive displays help inform and guide guests.
"Toshiba's digital signage has truly enriched the experience for our visitors and helped us better tell the great story of the Memorial," said Jadwiga Ziolkowski, CEO of Crazy Horse Memorial Foundation. "Their Ellumina team intuitively understood what we wanted to accomplish and designed a comprehensive interactive experience that our guests have embraced. Toshiba's digital signage is definitively improving our visitors' experience from the moment they arrive and enables us to maintain a relationship with our guests once they leave."
Toshiba's interactive touch screen displays (ranging from 46- to 55-inches in diameter) are integrated throughout the spacious visitor complex including the Welcome Center, the Indian Museum of North America, Native American Educational & Cultural Center, Mountain Carving Room and Covered Porch. The Covered Porch sits on the footprint of the home of the monument's original sculptor, Korczak Ziolkowski.
"We are pleased to have been chosen by the Crazy Horse Memorial Foundation to leverage our state-of-the-art technology and digital content expertise for such an important aspect of their mission," said Toshiba America Business Solutions Chief Marketing Executive, Bill Melo. "Working with the Crazy Horse Memorial Foundation Team to bring this project to life has been exciting and we look forward to a long-lasting relationship."
Toshiba's Virtuosos are helping museum guests immerse themselves in the history of the Memorial and the culture of North American Indians. The interactive displays specifically allow visitors to sign-up for newsletters, complete visitor surveys to share their insights about the experience, and register to 'Become a Storyteller,' by making a charitable gift to the Foundation.
Toshiba interactive digital displays are providing exclusive content within the following areas of the Crazy Horse Memorial visitor complex:

Welcome Center: Toshiba's display educates visitors on the Memorial's mission to protect and preserve the culture, tradition and living heritage of North America Indians while continuing progress to complete the Crazy Horse sculpture.
Indian Museum of North America: Virtuoso content informs guests about the distinct native cultural aspects of different regions, including the varying housing, clothing, food and art of Native Americans indigenous to North America.
Native American Educational & Cultural Center: Toshiba's Virtuoso content spotlights local artists and the unique collection of art they've created. Moreover, Toshiba's digital signage educates visitors on the museum's assembly of Native American flags while outlining the history exclusive to the tribes associated with each flag.
Covered Porch: The Virtuoso pinpoints the vast array of touchstone events surrounding the creation of Crazy Horse Memorial and the Ziolkowski family. The Memorial's timeline also provides visitors with a vivid photographic glimpse of the sculpture's progress, from the time it started on June 3, 1948 to its current state.
Mountain Carving Room: This unique digital signage application contrasts the size of the massive Crazy Horse Memorial with such iconic historical structures as the Great Pyramids, Taj Mahal, Roman Colosseum, Statue of Liberty and Mount Rushmore.
Click-to-Tweet: Toshiba Digital Signage Engages Visitors at Crazy Horse Memorial
About Crazy Horse Memorial
Crazy Horse Memorial is a public charity and educational and humanitarian project of national and international scope. Its mission is to protect and preserve the culture, traditions, and living heritage of the North American Indians. Crazy Horse Memorial Foundation demonstrates its commitment to this endeavor by:
Continuing the progress on the world's largest sculptural undertaking, carving a Memorial of Lakota leader Crazy Horse riding his steed out of the granite of the sacred Black Hills of South Dakota proclaiming, "My lands are where my dead lie buried";

Providing educational and cultural programming to encourage harmony and reconciliation among all people and nations;

Acting as repository for Native American art and artifacts through the Indian Museum of North America® and the Native American Educational and Cultural Center®.

Establishing and offering academic programming in the Indian University of North America®, and when practical, a medical training center.
About Toshiba America Business Solutions
Toshiba America Business Solutions (TABS) is a subsidiary of Toshiba TEC Corporation, a global leader in office printing and retail solutions. TABS provides multifunction printers, managed document services and digital signage for businesses of all sizes throughout the United States, Mexico, Central and South America.
The company's award-winning e-STUDIO™ copiers and printers provide quality performance with the security businesses require. Complementing its hardware offering is a full suite of document workflow, capture and security services including Encompass™, the company's industry-acclaimed Managed Print Services program. Encompass enables clients to print less and optimize workflow while improving energy efficiency.
TABS' Ellumina™ digital signage offering includes all of the hardware, software and services needed to implement dynamic and interactive digital signage installations. TABS provides content creation and management, displays, integration, installation and project management services as well as financing for solutions ranging for a single screen to the biggest arenas and stadiums.
TABS comprises five divisions: the Electronic Imaging Division; the Toner Products Division; the Document Solutions Engineering Division; the International Division; and Toshiba Business Solutions.