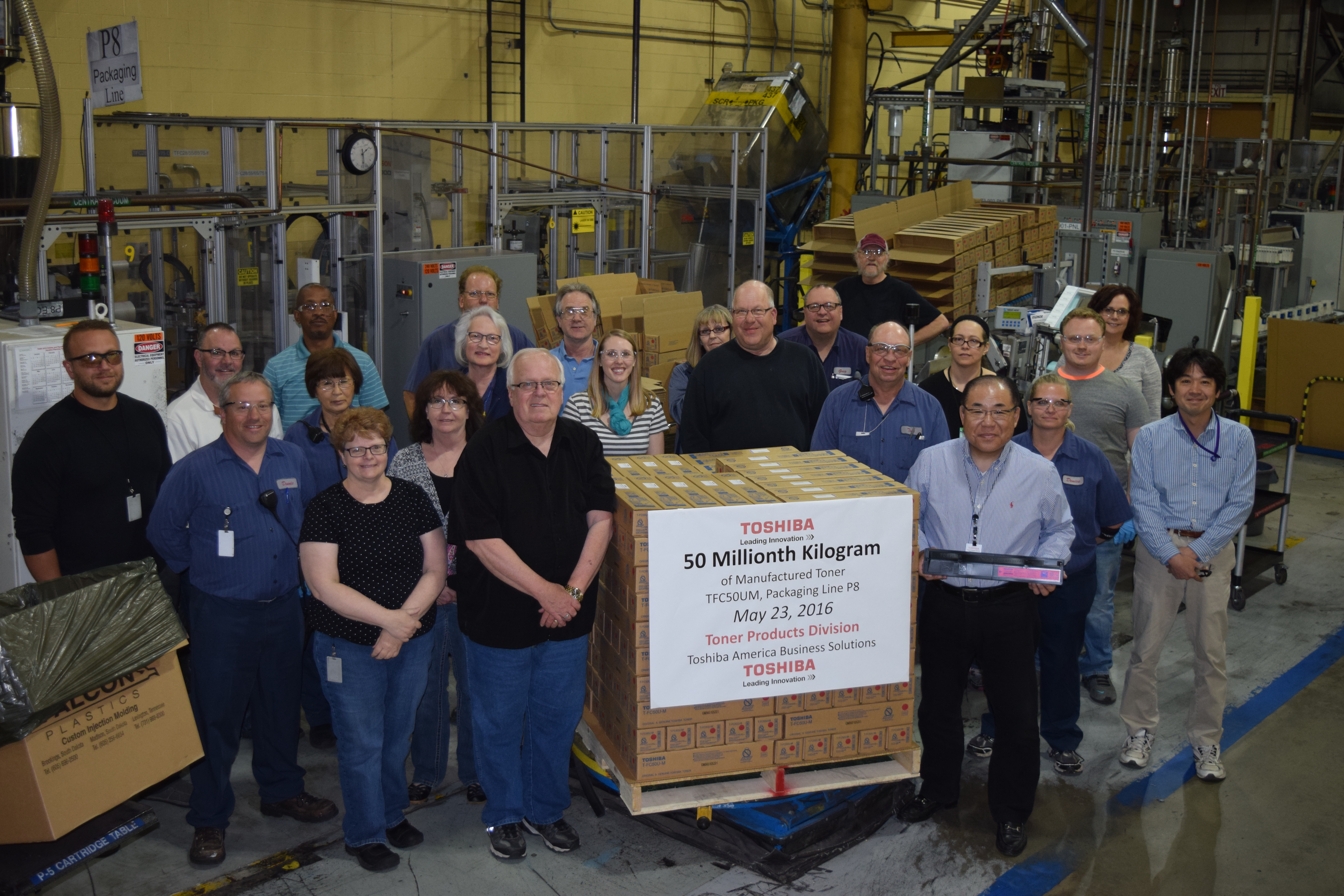 Toshiba America Business Solutions recently celebrated the milestone production of 50 million kilograms of copier toner manufactured at its Mitchell, S.D. facility.
Toshiba's largest toner-producing facility in the world – situated on 25 acres – is the primary global supplier of color toner for its industry-recognized e-STUDIO™ copiers. The 181,000 square-foot S.D. plant has been producing toner for the technology company for 30 years.
"Producing 50 million kilograms of toner is just an incredible accomplishment and a credit to everyone on our Toner Products Division team," said Scott Maccabe, president and chief executive officer of Toshiba America Business Solutions and Toshiba Global Commerce Solutions. "Delivering this elite level of consistency for 30 years is quite a track record of success."
"Throughout my 26 years at Toshiba, we have been committed to adopting innovative manufacturing processes that enable our customers to create everything from vibrant marketing and investor reports to crisp monochrome meeting agendas," said Toshiba America Business Solutions Assistant General Manager and Vice President of Manufacturing, Dave Tronnes. "It is truly satisfying to collaborate with an amazingly talented team of professionals dedicated to delivering the highest quality of work possible."
Click-to-Tweet: Toshiba Reaches 50 Million Kilogram Milestone in Toner Production
About Toshiba America Business Solutions
Toshiba America Business Solutions (TABS) is subsidiary of Toshiba TEC Corporation, a global leader in office printing and retail solutions. TABS provides multifunction printers, managed document services and digital signage for businesses of all sizes throughout the United States, Mexico, Central and South America.
The company's award-winning e-STUDIO™ copiers and printers provide quality performance with the security businesses require. Complementing its hardware offering is a full suite of document workflow, capture and security services including Encompass™, the company's industry-acclaimed Managed Print Services program. Encompass enables clients to print less and optimize workflow while improving energy efficiency.
TABS' Ellumina™ digital signage offering includes all of the hardware, software and services needed to implement both static and interactive digital signage installations. TABS provides content creation and management, displays, integration, installation and project management services as well as financing for solutions ranging for a single screen to the biggest arenas and stadiums.
TABS comprises five divisions: the Electronic Imaging Division; the Toner Products Division; the Document Solutions Engineering Division; the International Division; and Toshiba Business Solutions.