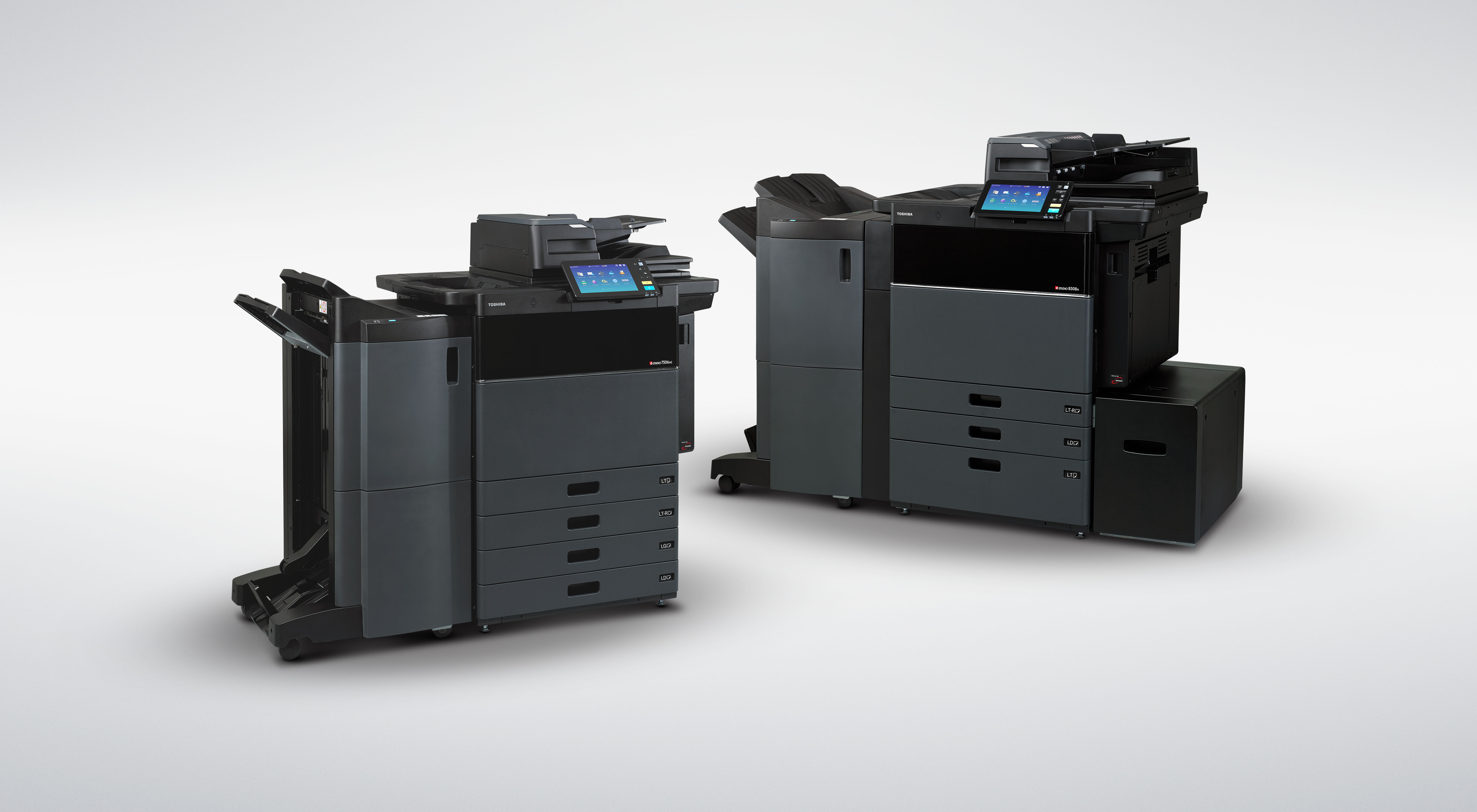 Toshiba America Business Solutions today announces the availability of 10 newly designed and engineered e-STUDIO™ line of multifunction printers (MFPs). The latest Toshiba MFPs include six color (e-STUDIO7506AC series) and four monochrome (e-STUDIO8508A series) models, which are all designed to connect, integrate and simplify the workplace.
Advanced software and hardware features integrated throughout the products enable users to tackle nearly any print, document management and workflow application. The powerful multi-core Intel® Atom™ processor, a customizable tablet-style user interface (UI), Embedded Application Platform and Dual-Scan Document Feeder (DSDF) highlight Toshiba's product portfolio.
Toshiba's customizable 9-inch tablet-style UI facilitates a more intuitive user experience. The latest e-BRIDGE™ Next controller, combined with the new UI, gives users the flexibility and power to accommodate their unique workflow needs.
"Our latest e-STUDIO models were designed to help organizations operate more efficiently and cost effectively while optimizing workflow," said Bill Melo, Toshiba America Business Solutions chief marketing executive. "We have integrated easy-to-use, customizable technology to meet the demands of the diverse markets we serve."
Toshiba's new MFP line also reflects its commitment to a more sustainable planet. The company's 10 new e-STUDIO models meet the stringent criteria of major environmental programs and standards, such as EPEAT® Gold, Restriction of Hazardous Substances (or RoHS) and ENERGY STAR®.
Toshiba's latest e-STUDIO products are available – starting at $24,176 – via the company's array of authorized dealers. For more information about Toshiba products, or to locate an authorized Toshiba dealer in your area, visit www.business.toshiba.com.
Click-to-Tweet: Toshiba Ships Newly Designed and Engineered Multifunction Printers
About Toshiba America Business Solutions
Toshiba America Business Solutions (TABS) is a subsidiary of Toshiba TEC Corporation, a global leader in office printing and retail solutions. TABS provides multifunction printers, managed document services and digital signage for businesses of all sizes throughout the United States, Mexico, Central and South America.
The company's award-winning e-STUDIO™ copiers and printers provide quality performance with the security businesses require. Complementing its hardware offering is a full suite of document workflow, capture and security services including Encompass™, the company's industry-acclaimed Managed Print Services program. Encompass enables clients to print less and optimize workflow while improving energy efficiency.
TABS' Ellumina™ digital signage offering includes all of the hardware, software and services needed to implement both static and interactive digital signage installations. TABS provides content creation and management, displays, integration, installation and project management services as well as financing for solutions ranging for a single screen to the biggest arenas and stadiums.
TABS is comprised of five divisions: the Electronic Imaging Division; the Toner Products Division; the Document Solutions Engineering Division; the International Division; and Toshiba Business Solutions.