Encompass Managed
Document Solutions
To put it simply, we're here to save your company up to 40% by ensuring you never buy another printer and pay only when you print. We'll help you work more securely, improve workflow, and create a more efficient and safer document management environment.

Read More
Ellumina Digital
Signage Services
Let our digital signage masters guide you through the rapidly evolving digital display arena to provide dynamic, cost-effective, start-to-finish solutions that will ensure your message won't be missed.

Industry Solutions
As experts in our industry, we can help you in your industry. We'll customize solutions to get you communicating better, and working faster, safer, smarter, and greener.
Products
We offer a wide range of products and services and even partner with other industry leaders like HP and Lexmark to provide you with the best solutions. Plus our digital signage experts are ready to help you take your business to new places.




Company
Founded in 1999 and headquartered in Lake Forest, California, Toshiba America Business Solutions (TABS) is all about helping you manage communications from paper to digital and is an independent operating company of the Toshiba Corporation. Our innovative technology and creative solutions help you work more efficiently in today's ultra-competitive business environment.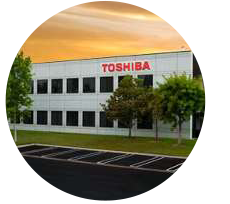 Toshiba America Business Solutions
25530 Commercentre Drive
Lake Forest, CA 92630

Drivers
Search for Drivers and Material Safety Data Sheets (MSDS) for your product here:
Find A Dealer
Search for the closest dealer here. Enter you zip code below:
System Error.