Printing...
Revolutionized.
It's the greatest leap forward in recent printing technology. It's Adobe® LeanPrint, and Toshiba has collaborated with Adobe to bring it to you. Click the play button on the right to see how easily LeanPrint transforms a 3-page document into 1 easy-to-read page.
CLICK HERE to download an independent study showing 73.6% savings using LeanPrint.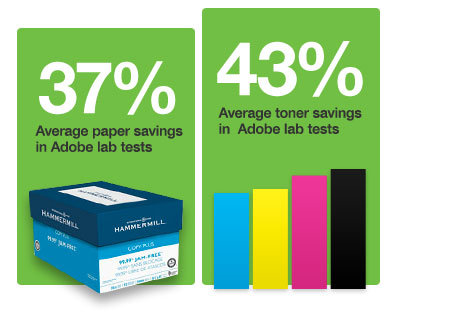 Print Lean
Clean & Green
With the single click of the print button, you start to save. Your documents are reformatted so they are easier to read, use less paper & toner and are easier to archive. Set Adobe LeanPrint to save toner, or save toner and paper. Track your paper and toner savings per print and over time with the LeanPrint Savings Bar:

Like every innovation Toshiba offers, LeanPrint delivers not just greater efficiency, but fine-tuned control over your print environment.
Estimate Your Savings with LeanPrint
Savings
Based On
The average paper usage, toner usage and cost per print per employee. (The cost of hardware, Adobe LeanPrint software or networking equipment is not factored into the savings estimate.)
The average ratio, per industry, of color prints versus black and white prints per employee.
The average, per industry, of prints that equate to High Usage, Moderate Usage and Low Usage.
The Science Behind LeanPrint
Adobe LeanPrint isn't a shrink-to-fit or draft-mode program. It's software that uses intelligent technology to re-format pages; optimizing space, readability and toner. The results are beautifully laid-out pages that lose nothing, except waste.
To learn more about the revolutionary science behind LeanPrint technology, CLICK HERE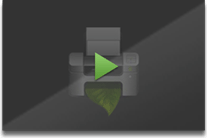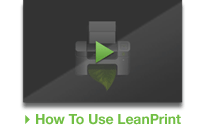 Experience the
Ease of LeanPrint
With Adobe LeanPrint, sending a document to the printer is as simple as ever. To see how it works, view the demo.
To learn more about this innovative solution CLICK HERE to download our brief entitled: Adobe LeanPrint: A new way to print economically and responsibly.
Plug and Play. Install LeanPrint Today.
Toshiba is proud to partner with Adobe for the launch of Adobe LeanPrint and is offering a special promotional price. LeanPrint can be purchased for $99 or $3 per month.
LeanPrint is compatible with Windows XP, Windows Vista and Windows 7.