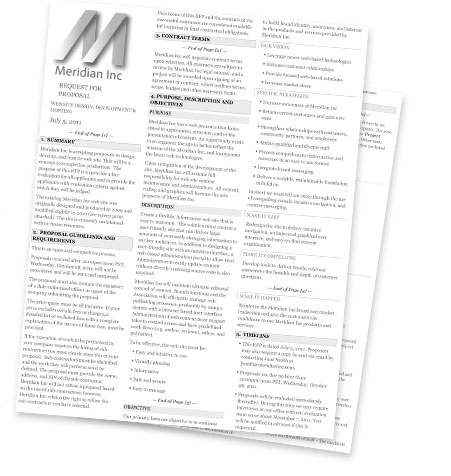 The Science of Printing Less
A document printed with Adobe® LeanPrint isn't just fewer pages in length. It's more elegant, readable and shareable because LeanPrint uses intelligent technology to optimize the content. Now that's Leading Innovation.
Adobe and Toshiba: One Good Innovator Deserves Another
Like Toshiba, Adobe is in the business of helping individuals and businesses print smarter. That's why we joined forces to create Adobe LeanPrint and why Toshiba is proud to be Adobe's first technology partner for LeanPrint.
To learn more about reducing printing costs and improving productivity,
CLICK HERE to download the Adobe LeanPrint Datasheet
What Adobe LeanPrint Does
• Pages are optimized for space and readability – NOT shrunk to fit or placed in draft mode.
• Color charts and graphs are converted to black-and-white patterns to ensure readability.
• Text is laid out in newspaper-style columns to make better use of space and reduce page counts.
• Excel charts are reformatted to keep most graphs intact.
• Web pages are cleanly printed without distracting (and toner-intensive) display ads.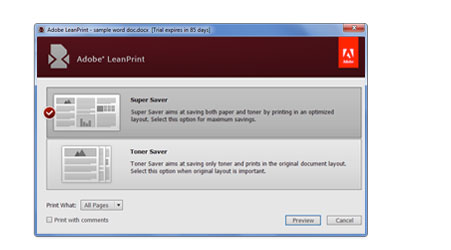 Two Print Modes Giving More Flexibility
Adobe LeanPrint analyzes the document structure and applies transformations to create a print-optimized layout.
Once done, the document can be printed in Super Save Mode or Toner Mode. LeanPrint will always strive to produce in Super Saver mode which allows for paper and toner savings. If a document cannot be reformatted for less output pages, Toner Save mode will default. Either way, the end result is savings!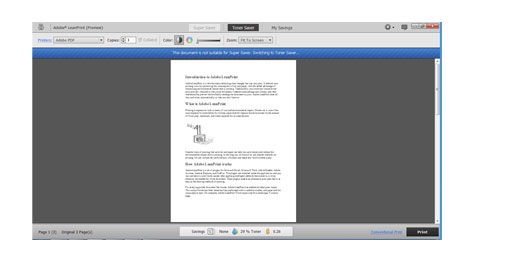 How LeanPrint Works
Adobe LeanPrint is a set of plugins for Windows-based versions of Microsoft Excel, Microsoft Word, Adobe Reader, Adobe Acrobat, Internet Explorer, and FireFox. The plugins are installed inside the applications and enable an alternative print path that is as easy as the existing methods of printing.
For every supported document file format, Adobe LeanPrint has defined an ideal print output. LeanPrint first displays a preview, so that you can see what the final document looks like, and after you are satisfied, you can send it on to your printer.
Optimizing Documents
Adobe LeanPrint lays out the document in a manner that optimizes whitespace wherever possible. The output document only retains enough whitespace and dark color fills necessary for good readability.

• Text sizes are optimized; extra-large text is scaled down.
• To retain readability, a relative size difference among styles is maintained
• Whenever possible, number of columns are kept consistent across pages.

In a trade-off between saving paper and the reading experience, readability always wins. LeanPrint will trade the projected savings for a better reading experience. Using one of the available print modes will still allow you to save without having to compromise the integrity of your document.
Classifying Documents
For practical purposes, most Word documents can broadly be classified into the following broad categories:

Text-rich documents
These documents mainly have textual content and are generally low complexity documents. In such documents, there is a single flow of text. For such documents, Adobe LeanPrint generally generates 4-column, landscape output for A4/letter size sheets.

Table-rich documents
These documents contain tabular data. Adobe LeanPrint treats them as medium complexity documents.

Mixed documents
These documents contain a mix text, tables, images, shapes etc. The document complexity determines the amount of savings.

Placed content documents
These documents contain images, shapes, diagrams and text boxes. All the content is placed on a page. Brochures are a good example of this category. Such documents are treated as very complex because it is difficult to recognize the relationships between various components.

The overall complexity of the document determines Adobe LeanPrint output. A4/Letter size text-rich documents are easily converted to the ideal 4-column landscape pages. If images are relatively small and inline, they are rescaled to fit inside a column. Images that are larger might be rescaled to span multiple columns. If an image occupies a significant part of the page, the page is left as-is.
Plug and Play. Install LeanPrint Today.
Toshiba is proud to partner with Adobe for the launch of Adobe LeanPrint. Start optimizing your printing environment and saving time, money, and trees today.
LeanPrint is compatible with Windows XP, Windows Vista and Windows 7.