The copier that
gives paper new life
What do you get from a company that's dedicated to innovating and aiming to become one of the world's foremost eco-companies? A groundbreaking copier that has all the functionality of a regular copier with the added capability of erasing images and text allowing for the reuse of the same sheet of paper.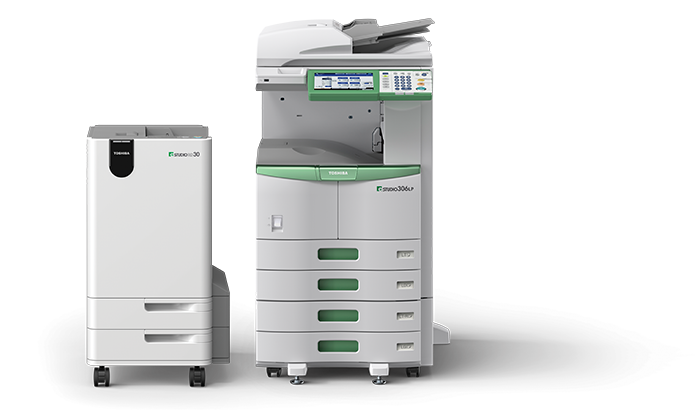 Talk to an expert
Complete the form below, and your local Toshiba dealer will contact you.
Why does this matter?
By reusing the same sheet of paper an average of five times, users

reduce solid waste

reduce paper usage by 80%

reduce air and water pollutants

lessen carbon dioxide (CO2)
emissions by up to 57%*
Toshiba understands this product isn't for everyone. This product was designed with the Sustainability Executive, the Socially-Conscious Entrepreneur, the Eco Champion within an organization in mind, or anyone else who shares Toshiba's passion and concern for preserving the Earth's natural resources. If you can reuse one piece of paper five times, consider the number of trees that might not need to be cut down or the water that could be saved. Toshiba remains committed to being an eco-friendly global organization, this product is just another example of Toshiba's desire to develop technologies that make businesses run better without negatively impacting planet Earth. This is a game changer.
* the British Standards Institute
Green Manufacturing
From using recycled plastics and reducing packaging to eliminating the use of harmful substances, we're reducing our environmental footprint. This is our philosophy of monozukuri, which means to make or create things in the spirit of excellence. In addition, we've reduced or eliminated the use of restricted substances and minimized natural resources used for product manufacturing and packaging. Our use of recycled plastics has increased and we've eliminated the use of styrene altogether. Shipping crates and pallets are now made with 100% recycled cardboard. Our dedicated efforts to improve the environment have not gone unnoticed, and four of our manufacturing facilities have earned ISO 14001 certification.
Toner Recyclng
We want to make recycling easy. That's why we provide a free, easy-to-use recycling program for our customers. Just drop your waste consumables like, cartridges and toner bottles, into the provided receptacle and we will do the rest. With our partnership with Close the Loop, a zero-waste-to-landfill recycling program that manufactures eLumber™, waste is used to build useful products like park benches. When zero waste is going to landfills, we are able to reduce the negative impact on our environment together.

©Toshiba America Business Solutions, Inc. Electronic Imaging Division. All rights reserved.