Support

Avoid Fraud

Identify Toshiba Supplies

Thermal Barcode Supplies/Media
Why use Genuine
Toshiba Supplies?
Toshiba supplies are designed specifically for Toshiba products. We ensure the highest quality product that will work best with your equipment with our demanding specifications, high quality standards, and vigorous testing. Using non-Toshiba-compliant toners and developers may cause higher consumption levels resulting in low toner yields and dirty equipment. Save money over time, get better results, and benefit from our Toshiba Commitment Guarantee when you use our supplies.
The Toshiba Quality Commitment Guarantee is void on equipment that uses generic supplies.
Your local authorized Toshiba dealer can help you find the right supplies for your Toshiba product.

Get Supplies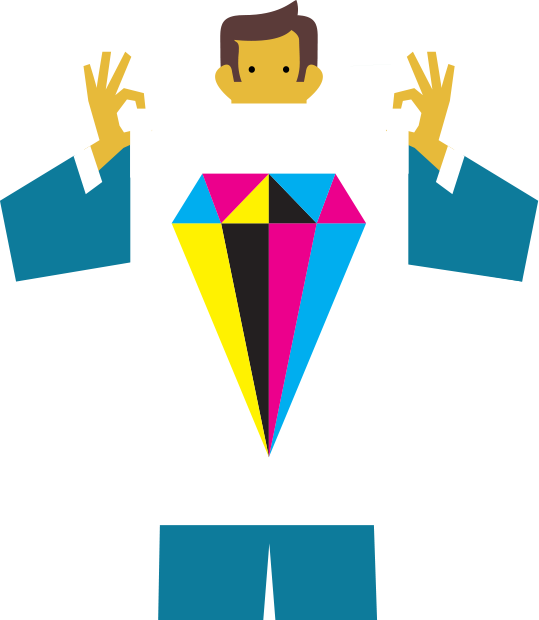 Avoid Fraud
1. Know Your Rights
You are not obligated to pay if you receive supplies or bills for services that you did not order. Do not return the unordered merchandise. Treat unordered merchandise you receive as a gift. It is illegal for any seller to send you bills or dunning notices for merchandise you did not order. It is also illegal for them to ask you to send back merchandise even if they offer to pay the cost of the shipping. Remember that a contract is nonbinding if the company misrepresented themselves to be your normal supplier.
2. Assign designated buyers and track your purchases
It is important to assign specific employees as buyers—those buyers are the only ones that should assign purchase order numbers to ensure they are included on the invoice and bill of lading. Buyers should also be responsible for sending a copy of the purchase orders to accounts payable.
3. Before you pay the bills—check all documentation
Your receiving department should check to make sure that your purchase orders match the bill of lading. Check brands and quantities closely. If they don't match, they should be refused. Bills of lading should be forwarded to your accounts payable for further review.
4. Train your staff
Train staff to respond to telemarketers. (Example: I am not authorized to place order. If you want to sell something you must talk to _____ and to get a purchase order.) Designate a team of buyers, receiver and accounts payable reps, and develop standardized buying procedures.
5. Report fraud
Report office supply scams to the Federal Trade Commission website (FTC—www.ftc.gov - online complaint form) or toll free by phone at (877) FTC-HELP (382-4357); and your State Attorney General, local consumer protection office or Better Business Bureau, and your Authorized Toshiba Dealer.
At Toshiba, we work hard to protect our customers from counterfeit supplies. These counterfeits can perform poorly and cost you money. Please beware and be wise when ordering supplies for your copiers, printers, fax machines and MFPs.
There are five key areas that help distinguish between genuine Toshiba toner cartridges and counterfeits:
Label
Logo
Embossment
Cap
Lot Number
Look for security barcodes added to the packaging and product: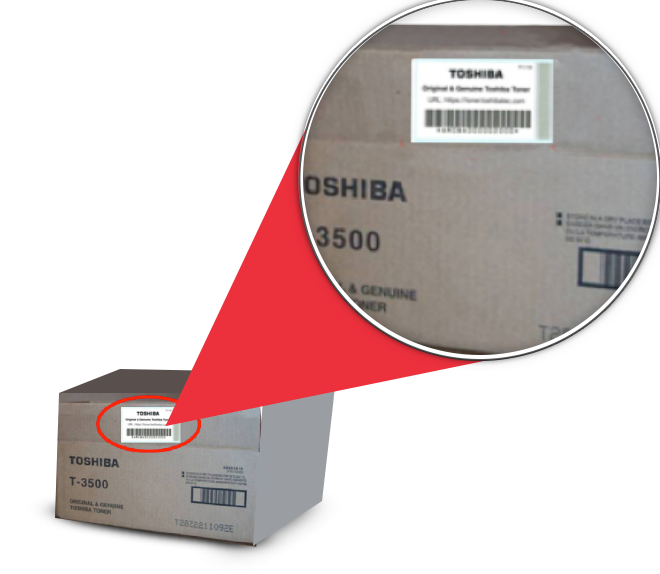 Perfect Solutions
To ensure you'll get the most out of your Toshiba barcode printer, we recommend using Toshiba-certified ribbons. We also support other printer brands and offer a variety of products for your business-critical labeling applications. From ribbons to labels, RFID tags to cleaning products, we have solutions for you. All of our products are rigorously tested and competitively priced to assure you are getting only the best for your thermal barcode printer needs.
Which ribbon is right for you?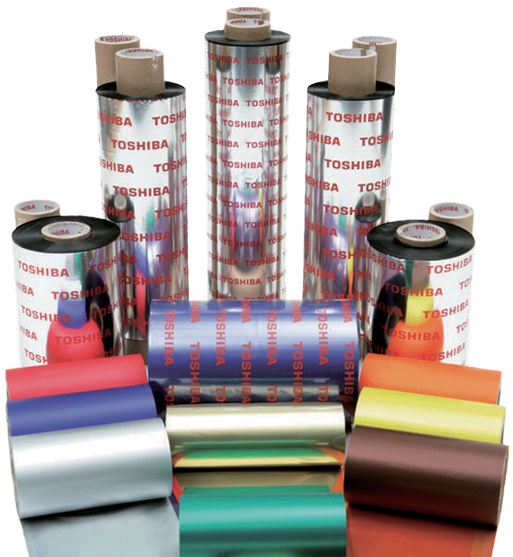 Ribbons for All Reasons
Toshiba America Business Solutions offers a full line of thermal barcode printer ribbons in numerous sizes, colors and ink formulations for a wide range of applications. Our ribbon grades have been rigorously tested and approved for all Toshiba thermal barcode printers. With more than 30 years of barcode experience, you can be certain you are getting the absolute best ribbons for your application.
Still not sure what you need?
Call us at 949-462-6015
Wax
The Toshiba wax range is an economical printing solution dedicated to flat head technology. Wax ribbons can be used on a wide range of label materials and are suitable for both vellum and coated papers, delivering dark defined edges perfect for barcode and shipping labels. Wax is primarily used for temporary labels as it is the least durable of the grades.
Wax-Resin
Wax-resin is known for its high quality performance and its suitability for a wide range of applications. This range of ribbons provides excellent results on coated papers and synthetics (PE, PP, PET…). It also features good resistance to smudging, is ideal for printing barcodes at 90° and has sharp edge definition. This is the most common type of ribbon used due to its flexibility and durability.
Resin
The Toshiba resin ribbon range is made up of superior technology products that are particularly recommended for synthetic label materials (PE, PP, PET). The products in the resin range are intended for extremely demanding print applications and harsh conditions. You can find these ribbons in the automotive industry, horticultural industry, healthcare, asset tracking, etc.
These high performance ribbons are exceptionally durable: resistant to smudging, high temperatures, solvents and some detergents.
Interactive Product Tutorials
These tutorials will help you learn how to perform various user functions at your e-STUDIO device, including:
Copy Functions
Print Functions
Scan Functions
Faxing
e-Filing
Toner and Paper Replacement
Understanding Software and TopAccess
Troubleshooting
Special Functions
By Category:
Color Systems (8)
B/W Systems (10)
Previous Systems (31)

As of 2014, all Interactive Product Tutorials will be provided in HTML 5. Tutorials listed with this icon

are tablet friendly and do not require plug-ins to view.

All other tutorials require Flash Player 8 and above. Click here to access the latest version.
Signing Up for Meter Reads

FAQs
Be up and running
in minutes
To set up the automated meter read process, just click the button below to see if this service is available in your area. If it is offered in your area, you will be asked for some basic information so we can create an account for you. We will then send you a link to the software download, as well as simple installation instructions.
The entire process should only take a few minutes maybe even less time than it takes you to manually collect your meters each month.
Find out if this service is
available in your area
Be up and running
in minutes
To set up the automated meter read process, just click the "Sign up today" button on the bottom of this page. You will be asked for some basic information so we can create an account for you. We will then send you a link to the software download, as well as simple installation instructions.
The entire process should only take a few minutes maybe even less time than it takes you to manually collect your meters each month.

Sign Up Today!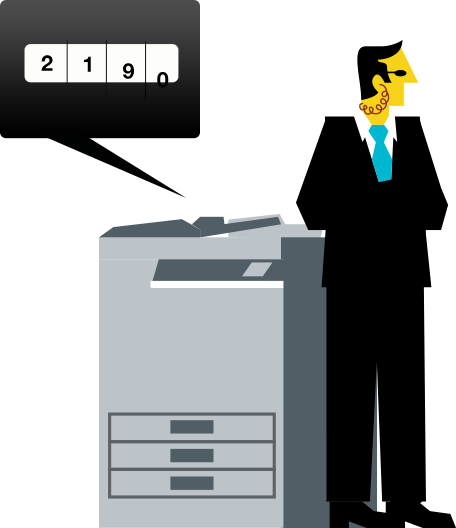 Q:
What are the benefits to me?
How much does the Toshiba Automated Meter Read Program cost?
What information is gathered?
Is the transmission secure?
What do I have to do to get started?
How long will the process take?
What about upgrades?
Will the software interfere with other systems and applications?
What if I do not want any software installed?
Are there any requirements?
Can you read meters from non-networked devices?

Sign Up Today!
A:
The benefits are many. You'll eliminate interruptions caused when we call each month to gather usage information. You will no longer need to have people manually collect meter readings, reducing manpower costs. The automatic reads are timely and accurate, which reduces billing errors and estimates, and the associated costs to correct them. Monthly vs. quarterly collection can result in fewer costs, and helps you optimize your fleet based on actual usage. Automatic Meter Reading also offers proactive system management by capturing the error history for each of your systems.
Nothing. Ever.
Aside from proactive system management that captures the error history for each of your systems, the automated meter reading system only captures the information required for billing purposes: system model, serial number and usage information.
Yes. The data is transmitted with the same security protocols you use to look at your online banking statements. Additionally, none of your file data is ever collected, just the usage information.
Just gather the model numbers and serial numbers for each of your systems and click the link to sign up today.
Installation by a Toshiba Business Solutions professional will take just minutes, but you'll save hours of time each year.
The software checks for updates on a regular basis, and installs them automatically.
Not at all. The software is designed to run in the background, and will not interfere with other applications. It consumes very little CPU resources and network bandwidth when taking readings.
Your Toshiba MFPs can be configured to automatically email usage information without installing additional software on your network. Please inform your dealer if you prefer this option.
Yes. Each system must be network connected, and your network must have the ability to access external websites (like this one).
Most likely, yes. If the system is directly connected to a PC, we can provide you with software that will gather its usage information. If you have a stand-alone copier, please contact us to discuss your options.
Electronic Invoicing

FAQs
Go Electronic
Sign up for paperless invoicing to help save your business money, time and trees.
To register for electronic invoicing and payment, complete the form by clicking on the link below.
You will need your Customer Site ID, which can be found at the top right of your Toshiba invoice.
Once you've submitted the form, you will receive a welcome email with a link to create a login and password to access the portal.

Sign Up Today!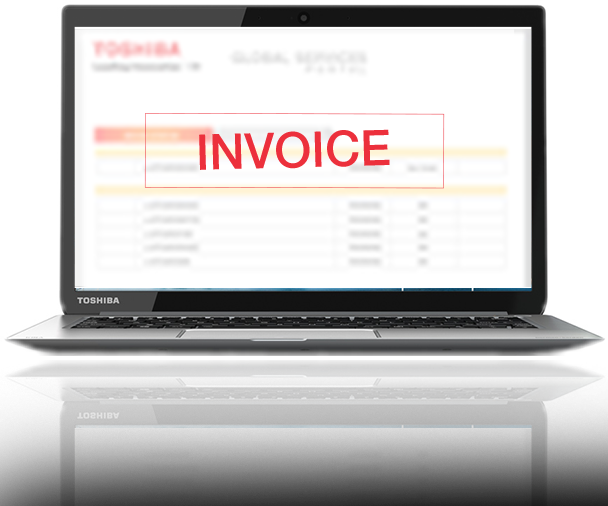 Q:
Why switch to electronic invoicing?
Gain 24/7 access to invoices
Reduce storage costs
Comply with government regulations in over 40 countries
Go green

Sign Up Today!
A:
You'll simplify invoice validation, and eliminate the need to process, file, and archive. If you are equipped with a vendor invoice automation solution, electronic invoicing removes the need to scan paper invoices for validation and integration into your ERP system.
Quickly and easily access, review and download your invoices anytime online via the Web portal.
Reduce your storage costs and save space by electronically archiving your invoices. Take advantage of secure archiving for up to one year at no additional cost.
In certain countries, for electronic invoices to be valid, they must be archived in electronic format and include an electronic signature. We help ensure that all your electronic invoices are in compliance with government regulations.
Take an active role in the move to go green! Reduce your organization's overall impact by eliminating paper, conserving resources, consuming less energy, and supporting sustainability.

Did you know that it takes 25 trees to produce one ton of paper, which equals 400 reams or 200,00 page? Act responsibly—consider the environment and convert to electronic invoicing.